At RE+ this year, I was speaking with a Tier 1 solar installation company. I thought they might want to discuss ways to resolve costs associated with overlapping software systems or inaccurate system designs , but they did not. Instead, they told me they had to cut sales because they couldn't keep up with the installs. This means reducing the number of salespeople, eliminating outside marketing and saying no to people who walk through the door.
It turns out that the problem for this installer wasn't a shortage of installers, it was the complexity of the early stages of the design process that artificially limited their capacity. Inaccuracies in the preliminary design the measure meant that projects often required change orders. The back and forth between customer, installer, finance partner and sales representative was taking days longer than necessary for each customer.
Unnecessary labor toll of change orders
As solar demand grows and more companies enter the market, solar installers will struggle with ancillary costs. In fact, although the cost of installing solar PV has fallen by more than 70% over the past decade, soft costs including installation labor, customer acquisition, authorizations, inspection and interconnection, remain high. On average, ancillary costs are 65% of the total solar project cost, but maybe not the way you think.
The core costs of a residential system are approximately 35% of the total system cost. Indirect costs represent 65% of the total system cost for residential solar installations and are generally divided into six main categories.
The largest category is overhead (general and administrative) and profit, accounting for 21% of the total system cost.
Sales and marketing costs, often referred to as customer acquisition costs, make up 18% of the total system cost.
Supply chain costs account for 9%,
Authorization, inspection and interconnection 8%,
Installation labor 7% of total system cost.
Finally, the sales tax represents 2% of the total costs.
The most pervasive problem for the industry among soft costs is the ongoing struggle to find enough labor early in the design phase of a project to meet growing demand. Basically, change orders, which are often related to system design and cost, cost solar providers too much.
Aurora Solar conducted a quick research survey about change orders, finding that of the 76 people who answered the question about the prevalence of change orders in their company, 47% said that change orders impact between 10 and 30% of their projects.
Their research also revealed that while the largest number of respondents (34%) indicated that their change orders cost less than $250 on average,
a similar number (31%) indicated that change orders can cost up to $750.
21% of respondents indicated that their change orders cost on average between $750 and $1,250.
13% said change orders cost up to $1,750.
A weighted average generated from these results yielded an average change order cost of $583.
But these costs only take into account the actual cost of the order to the customer, not the cost of the man-hours needed to make changes, re-evaluate, and negotiate financing.
Assume that it takes a residential project administrator about an hour to compile the application documents, regardless of the size of the system. For small business ownersthis is the labor that would be best used for new orders.
The change order cost estimate also does not take into account the cost of lost time to a customer. In reality, 8% of solar entrepreneurs said lose sales after an order change.
The key to reducing these costs is actually to create more accurate and reliable estimates from the first survey; if we can trust the initial designs, we can also create trust with consumers. I'm not saying this as a representative of a company providing solar data, I'm saying this as someone who cares about meeting solar demand with best in class products and services.
Starting a project with accurate site data positively impacts every stage of the solar sales cycle. High-quality data enables solar companies to reduce ancillary customer acquisition costs, which account for 18% of the total cost of a residential system installed in the United States in the first quarter of 2020.
The Power of Data Accuracy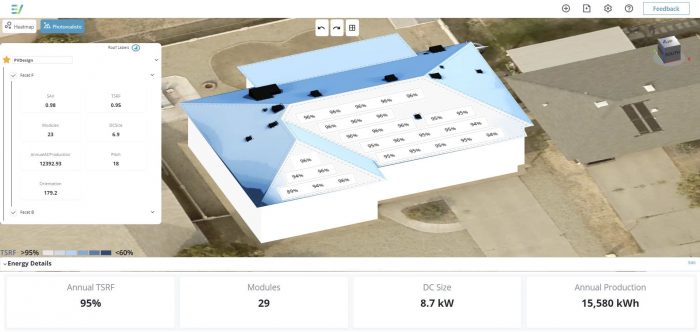 All platforms and software vendors that provide solar solutions need to improve the data they use to generate early cost estimates. As an industry, we need to recognize the role that inaccurate data has on our ability to win customers. When customers feel ripped off by their data, the entire industry struggles.
Precise, installation-ready designs incorporate virtually measured rooftop azimuth, tilt, and solar access values ​​to guide optimal rooftop module placement, resulting in a portfolio of high-performance systems . In turn, these high-quality designs minimize the possibility of change orders, speed up the approval process, and shorten the overall project schedule.
Solutions that deliver high-accuracy virtual site assessments and ready-to-install designs are transforming business workflows. From customer acquisition and design to installation and project closeout, they create a clear path to reduce costs, increase profits, and free up personnel and financial resources. Ultimately, these solutions enable solar businesses to build momentum, grow, and succeed where others might fail.
By improving the accuracy of first quotes and streamlining the sales-to-installation pipeline with more holistic software tools, more roofing installers will be able to meet growing demand.
---
Pete Cleveland is vice president of the solar business at EagleView. Pete began his solar career in 2010 where he initially focused on developing and implementing system design standards and processes leveraging his previous experience in site surveying and construction heavy. Prior to joining EagleView in 2018, Pete drove innovation and efficiency with one of America's largest EPCs by combining LEAN business practices with technology. Pete is now applying technology to solve real-world problems with the goal of deploying more solar energy to benefit society and our planet as a whole.
Key words:
Eagle View
,
Sales and Marketing
,
Software